Muscat: Eng. Issam Al Zadjali, Chairman of Muscat Municipality visited Muscat Bay, Oman's bespoke luxury lifestyle destination to learn more about the progress and development.
The visit is part of the partnership between the private and public sectors on the development initiatives that are aimed at fulfilling the Oman 2040 vision.
Sheikh Hamood bin Sultan Al Hosni, CEO, Muscat Bay, Abdullah Al Nasri, VP, Muscat Bay and the senior management team welcomed Eng. Issam Al Zadjali and the delegation at the Experience Center. This was followed by a progress overview presentation which highlighted the handover of the completed phases and the proposed plans to reach completion in a phased manner.
The presentation was followed by a tour across the property to witness the transformation with an emphasis on the completed phases, amenities, facilities and conveniences forming a cornerstone of the premium lifestyle experience.
This included the Zaha zone, comprising villas, apartments, parkland and swimming pool and sports amenities; Nameer zone comprising 33 exquisite villas; Wajd zone with its 22 prestigious hilltop villas overlooking the bay; and Village Square, a commercial area with restaurants, cafes, supermarket, gym and other facilities. The delegation also toured the upcoming Jumeirah Muscat Bay Hotel and the exclusive staff accommodation.
Summarising his visit, Al Zadjali said, "The development at Muscat Bay is impressive and we observed it provides a well-balanced eco-system of natural resources, amenities and lifestyle. We wish continued success and look forward to the completion of the next phase."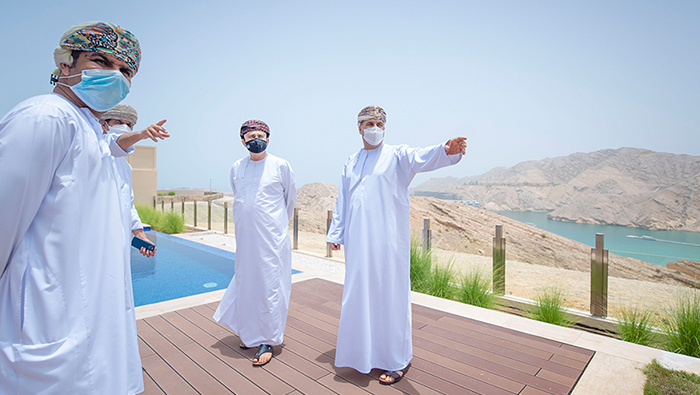 Commenting on the journey thus far, Sheikh Hamood Al Hosni said, "It was an honour to share Muscat Bay's transformation journey with Eng. Issam Al Zadjali and the senior delegation on their visit. We have been committed to delivering a premium lifestyle experience while preserving our natural heritage and we have been successful with that. As completion approaches in a phased manner, we look forward to offering an enriching experience of nature, luxury and convenience at Muscat Bay."
Muscat Bay is on schedule for the opening of the Jumeirah Muscat Bay Resort Hotel soon, the first Jumeirah hotel in Oman.