Muscat: Imagine riding motorcycles for around 15,000kms over the past three months. Certainly, not an easy thing but then this is what one's passion and love for exploring countries does.
Meet the adventure-seeking duo from Pakistan, Munawar Husain and Shan Ilahi, who not only rode for hours daily but also braved snowfall, extreme chilly winds, sandstorms, fog and rains on their trip named Safer-e-Noor (Journey into light).
The trip that began with a group of 25 riders from Pakistan saw them travel on bikes from Lahore to Mecca in Saudi Arabia to perform Umrah before the pair decided to come to Oman before returning to Pakistan.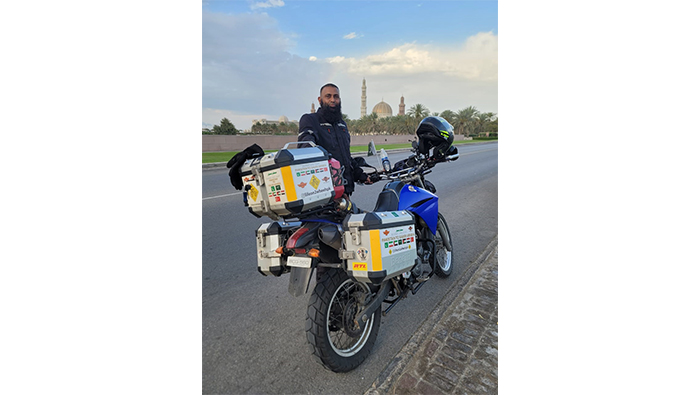 The duo have been enjoying the beauty of the Sultanate of Oman over the past week and also experienced the warmth and hospitality of Omanis and their fellow countrymen over Iftar gatherings.
The daring riders were recently given a warm reception by Imran Ali, Ambassador of Pakistan to the Sultanate of Oman, at the embassy premises in the presence of senior diplomats.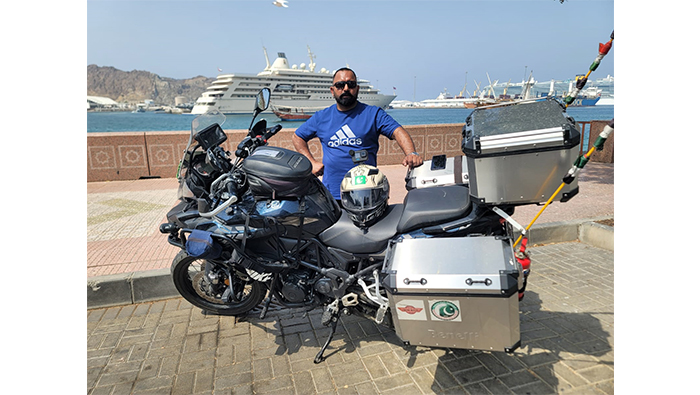 Sporting big smiles, the two riders from Pakistan, who possibly are the first to have done a road trip to Muscat from Lahore, spoke to Times of Oman about their journey so far that have taken them to nearly 15,000kms since they began their journey on January 6, 2023.
The 44-year-old Munawar said: "We began the Safar-e-Noor trip as part of a 25-member group that belongs to Lahore-based Cross Route Club. The initial plan was to make it a spiritual journey as we wanted to perform Umrah. So, from a total of 50 that had displayed interest, 25 decided to begin the trip.
"We first crossed into Iran through the Taftan border and then reached Sharjah in the UAE by ferry from Bandar Abbas. From Sharjah, the group travelled to Riyadh via Abu Dhabi and Dubai and performed Umrah in the holy city of Mecca on January 28. While the remaining riders decided to explore Saudi Arabia, I along with Shan came to Oman. I have visited Oman in the past and also gone to Salalah from Muscat by road."
He added: "Oman has a beautiful landscape and topography. Most importantly, the people of Oman are full of warmth and hospitality. We have received a lot of affection from all segments of people during our journey."
The 47-year-old Shan Elahi said: "We experienced challenges aplenty after we started our trip. We have been led by our inspirational chairman of Cross Route Club, Muqaram Tareen, who has been the brainchild behind this trip. Despite the extreme weather conditions that saw us brave -16 degrees Celsius to sandstorms and snowfall, the group stayed together to complete the main goal of performing Umrah.
Elahi added: "During the trip, we experienced what brotherhood means as strangers all through our journey welcome us with open arms. The hospitality of Arabs has been exceptional while the expatriates, be it from Pakistan and India, were delighted to meet us in UAE, Saudi Arabia and Oman."
The duo entered Oman from Saudi Arabia via Ibri on March 23.
Both the riders wished to explore the beauty of the Sultanate of Oman but had to cancel their plans to travel to Salalah due to the ongoing holy month of Ramadan.
Munawar said: "I believe Shan and myself would be the first riders to have travelled to Oman on bikes from Lahore."
Munawar is an entrepreneur from Sialkot in Pakistan with business interests in South Korea and is a widely-travelled adventure seeker, having been to 20 countries.
Elahi hails from Lahore and owns a printing and advertising business. He said: "We found Oman to be the most beautiful country we have visited. We have come with a message of brotherhood and love and would like to invite our fellow Arab brothers to Pakistan. Our nation is also blessed with beautiful landscapes and we would like people to come and explore our country."
The duo will travel to Dubai before joining the remaining members of the group and take their return trip from the UAE to Iran and reach Lahore.