MUSCAT: Weeks after two bikers from Pakistan had entered Oman on motorcycles from Saudi Arabia, two more members from the same group travelled to the Sultanate to explore the country.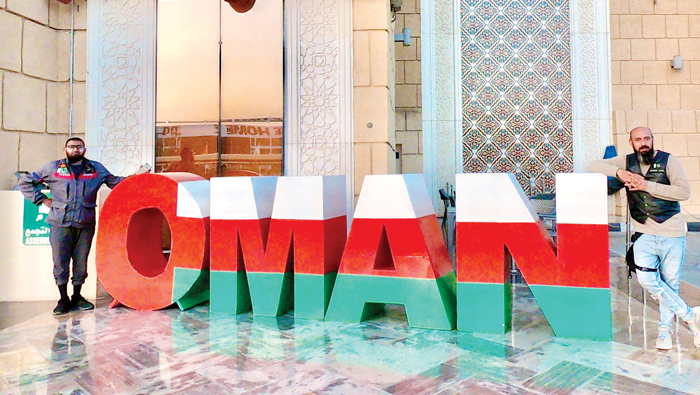 After a stay of ten days, the two adventure seekers from Pakistan – Dr Hafiz Muhammad Kashif Bhatti and Muhammad Sohail Akhtar – were left amazed at the tourism potential Oman has to offer.
With both the bikers having keen interests in travel and tourism sector, the duo entered through the Rub Al Khali border from Saudi Arabia and over the next ten days visited a number of castles and forts in the Al Dhakhiliyah Governorate besides exploring extensively Muscat, Sohar, Shinas and Sur.
The pair also visited Al Hoota Caves and were left impressed by the beauty of the caves while touring Nizwa Fort.
The two are members of Cross Route Club in Lahore, the same club that the previous two bikers - Munawar Hussain and Shan Elahi — belong to and who had visited Oman weeks earlier.
Performing Umrah

The quartet are part of a group of 25 bikers, who started the round trip from Lahore to Saudi Arabia, are back to Pakistan after performing Umrah.
The trip was named Safer-e-Noor (Journey into light) and four of them took a different return route and came down to Oman. The bikers had begun their journey on January 6 and the route took them to Iran, UAE and Saudi Arabia and back. Four bikers opted for a return trip through Oman, a decision they are happy to have taken.
Bhatti, who holds a doctorate degree said: "As we have strong interest in tourism, we wanted to explore Oman and the beauty and landscape exceeded our expectations. There are so many places to enjoy and see in Oman. We were bowled over by the beauty of the Sultanate. It has tourist attractions for all, be it forts, castles, beaches, mountains, souq and desert."
Akhtar, who is an MBA, said: "The warmth and hospitality of Omani people, in particular, the members of Oman Bikers and Riders clubs went beyond our expectations. Not only did they host us at iftar dinners at their homes, but they also accompanied us to various tourist attractions and guided us properly."
Having returned to Pakistan, the bikers promised to promote Sultanate of Oman as a top destination and hoped for bilateral visits by the bikers and riders' clubs of both the countries.
The riders said that the most challenging part of their visit to Oman from Saudi Arabia was when they crossed Rub Al Khali. "The strong headwinds that we had to overcome during that stretch was never experienced by us throughout our trip. It was once in a lifetime experience and we are glad that we could cross it safely," said Akhtar.
Bhatti said that they travelled to Shinas from where they ferried their motorcycles to Bandar Abbas in Iran for their onward trip to Lahore.
"This route to Oman from Pakistan via Bandar Abbas in Iran from where we can get our bikes ferried by boats to Shinas is a good option and will make it easier for Pakistani bikers to travel to Oman. The support from Asim of Oman Bikers Club and Mohammed Issa Al Balushi from Sohar is a perfect example of bikers' brotherhood that we share across fellow bikers of the world," said Bhatti.
The trip by four Pakistani bikers in two groups have opened up prospects of a trip by Omani riders to Pakistan.
One of the bikers in the first batch was Munawar Hussain, who rode Italian bike, Benneli (520cc), said: "The bikers who travelled to Oman on their return trip logged in nearly 15,000km trip on conclusion of trip in Lahore."
"Shan Elahi, the other Pakistani rider who came with Hussain, rode a Yamaha XTR (660cc). He said: "We received a positive response from our Omani counterparts. Our club, Cross Route Club in Lahore, has a large following and it would be great to have the Omani bikers in Pakistan. Bikers' brotherhood is a big unifying factor in spreading love and peace across the world."
All the four bikers who came to Oman credited their Cross Route Club chairman Muqaram Tareen for the success of the trip. The riders shared the same sentiments on the purpose of the trip. Hussain said: "We want to spread a message of peace, friendship and brotherhood between Pakistan and our Arab brothers. Having performed Umrah, we believe the whole trip is a journey of enlightenment."
The trip of 25 bikers was self-financed and each biker had to bear a cost of about OMR 2,000 (US$4,300).